Coming Soon- How to install mods on a Jaws of Extinction server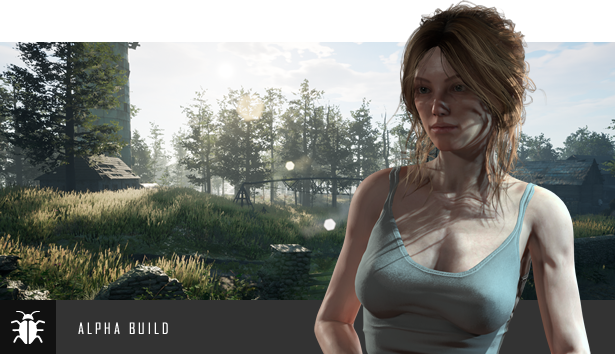 KYE Creations are all about the community getting involved with feedback and ideas on mechanics and features we are developing during our alpha stages. We realise not everyone who purchases alpha games wants to help test and progress game development, but we would appreciate anyone playing the alpha version to report any bugs or contact our team on the many platforms available, including Steam, Discord or social media.
WHAT IS THE CURRENT STATE OF THE GAME
Jaws of Extinction is currently in its alpha stages, this is a state of the game, that is still heavily in development and not released on Steams official Early Access program. Our store is currently hidden from the Steam client base, because we feel, as a team, that JoE is NOT currently ready for public consumption and should only be purchased if you wish to join in on testing the game in early stages.
The game has many issues, including bugs with mechanics, missing content and performance related issues on low and midrange machines.
If you wish to ask the community if the game is playable on your current system set up, we suggest joining our Steam or Discord community, links provided below.
Discord:https://discord.gg/playjoegame
WHAT IS CURRENTLY AVAILABLE IN THE GAME
We are still adding basic mechanics and improving current mechanic currently available and are all subject to change.
First and third person perspective
Basic firearms (Pistols, Rifles)
Basic Craftable weapons (Bow, Baseball bats)
Basic Crafting
Horse back transport
ATV (Quad) Transport
Basic Test Quest
Infected Enemy AI
Human Enemy AI
Stealth movement / perception
Basic player building
Vaulting & Climbing
Basic Hunting
Basic Harvesting
Traders
WHEN WILL MULTIPLAYER BE AVAILABLE
We are currently fine tuning current mechanics, lighting and performance and once we are happy, you guys are happy we will start to stagger protagonist character releases bringing with it online coop play, starting with two player online coop or local, leading to three player, four player
WHEN WILL THE MAIN STORY BE AVAILABLE
As each protagonist character is released we will also be releasing an introduction story (Single-Player) level (optional to play) teaching you the basics of the game and the characters abilities. We also have a team of four story artists that are hot on the button of creating, all types of quest, enviromental naratives, character stories and the main story and lore to Jaws of Extinction.
The main story will be released in chapters (Non DLC & FREE Updates) to make sure that each part of the story works well and progresses in single player and multiplayer.
For more information, join our discord:https://discord.gg/joegame
ALPHA ROADMAP 2020

*The current road map is subject to change and will be updated every quater.
BEFORE YOU PURCHASE: AN IMPORTANT MESSAGE FROM THE DEV TEAM
In the spirit of our ethos of transparency and integrity we want you to know that our game is at ALPHA stage in EARLY ACCESS and will therefore contain many bugs and have performance issues on low to mid-end machines. We're really proud of how it plays so far (it's a lot of fun!) but if your rig DOES NOT meet the RECOMMENDED spec then the game may not perform well and as much as we appreciate your support we would suggest that you wait until later in development before you invest your money. We don't want you buying something that's going to disappoint you.
Please also be aware that multiplayer/Coop is not yet implemented. This is under development and testing is planned for Q4 2020 / Q1 2021.
ABOUT THIS GAME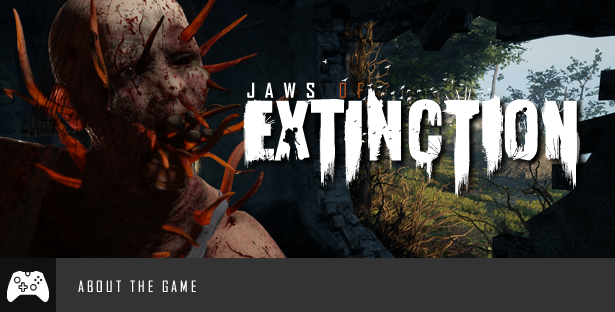 WHAT WILL YOU DO TO ENSURE THE SURVIVAL OF THE HUMAN RACE?
Jaws Of Extinction (JoE) is a story-driven, single-player and multiplayer, horror-survival game that plays like a survival RPG style hybrid. Your story begins on a large, open-world island known as Eden-Nadir; a place renowned for its beauty and thriving wildlife.
You will be faced with decisions that you may not wish to make as you battle against terrifying infected locals, rogue military units, dangerous native wildlife, exposure to the elements, and the threats posed by other players—including your own conscience…
Play single player, co-op with up to 4 friends or multiplayer (population planned for up to 50 players). Follow the storyline and uncover the dark secrets of Eden-Nadir or go off the beaten track and simply survive in the huge, open-world, hand-crafted environment.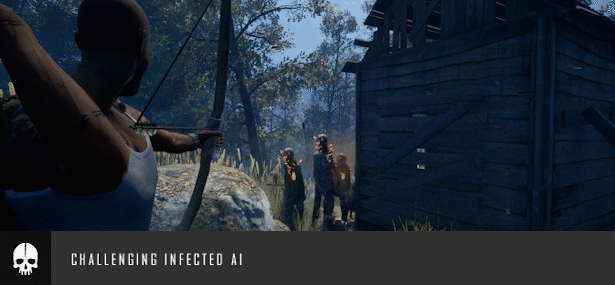 A CAPABLE THREAT
The infected can do almost everything you can do—climb, vault, run, and even open doors. To get an edge, players must use stealth, cunning and the appropriate equipment to survive.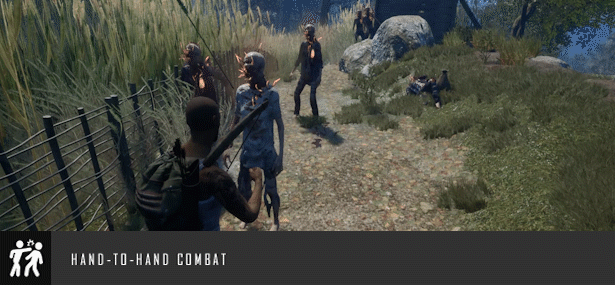 CLASSIC DESIGN, NEW HORROR
The infected are not reanimated undead. They are conscious and completely aware of what is happening, but have no control over their actions. Screaming in pain, they are slaves to the fungal parasite seen protruding from wounds on their bodies.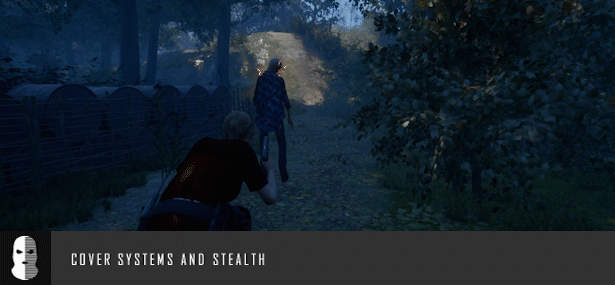 HEADSHOTS? ROOKIE MISTAKE!
Headshots will spread a cloud of hazardous fungal spores. The best way to eliminate the infected is by damaging the heart. Take mercy on them.
FEAR THE RAIN
Infected are attracted to water and become extremely dangerous when exposed to it. Every trip to a reliable watering hole carries risk, and be wary of straying too far from safety when dark clouds are overhead. The skies will betray you in other ways too. Beware of flocks of carrion birds that will give away your position.
IMMERSE YOURSELF!
What will be your profession? You can build, craft, trade, farm, hunt, fight, scavenge, loot, ambush and steal… it's up to you! How will you choose to survive?
EXPLORE AND CLAIM VAST LANDSCAPES
The island of Eden-Nadir's diverse biomes range from sweeping lavender and corn fields to sun-dappled forests and beautiful seashores which feed into murky swamps. If your looking to settle a more urban environment, then the island is dotted with deserted towns, fortified cities, even quaint villages and picturesque countryside retreats. All waiting to be claimed.
PLANNED DURING ALPHA STAGE
An immersive storyline: Discover the island's secrets and gain unique rewards
Single Player mode: Play on your own
Cooperative mode: Play with up to 4 friends
Multiplayer Mode: Play with the world online
World Events and quests: Attempt them with friends and other players
Player skill system: Practice skills to improve them
NPC interaction: Traders, companions, enemies and more
Realistic wildlife: Some you can hunt, others are better left undisturbed
Animal taming: Wild horses, stray dogs, wolves and birds of prey are all potential companions
Crafting system: With the right materials you can make what you need
Item upgrade system: Better weapons make for easier fights
Ergonomic User Interface: Detailed but easy to use
Enemy military NPCs: Fight them head to head in deadly shootouts, ambush them, raid them, drive them out – they deserve it
Infected NPCs: Fast and deadly – surviving is not going to be easy
Building system: Fortify local buildings or create your own base
Horde attacks: Protect your living area from huge waves of infected
Vehicles: Purchase, earn, steal or repair vehicles
Vehicle Customisation: Upgrade and reinforce your vehicles
Skin packs: Discover unlockable skin packs to customise the look of your survivor (No in-game purchases or Micro Transactions)
Currency: Trade with locals for essentials and upgrades (No in-game purchases / Micro Transactions)
Whether you choose to play solo or online the game is the same. There are no watered down versions and there will be absolutely no in-game purchasing at all – this is a game with integrity. You have paid for the game, so you get to enjoy it.READ MORE
MATURE CONTENT DESCRIPTION
The developers describe the content like this:
Jaws of Extinction may contain the following: Frequent and extreme violence and gore, horrific encounters, killing, mutilation and torture, suicide and self harm, tobacco use, consumption of alcohol and drug use, sexual references including to non-consensual sex, explicit swearing and bad language, blasphemy, gambling and storylines involving discriminatory behaviour.
SYSTEM REQUIREMENT
MINIMUM:
Requires a 64-bit processor and operating system
OS: Windows 7, 8, 10 64 Bit
Processor: Intel Quad Core i5 or AMD equivalent
Memory: 8 GB RAM
Graphics: 4Gb GPU (Nvidia: GTX 970 GTX 780 Ti GTX 780 / AMD: R9 390 R9 290X R9 290 RX 570)
DirectX: Version 11
Network: Broadband Internet connection
Storage: 48 GB available space
Additional Notes: SSD is highly recommended or expect longer than average load times.
RECOMMENDED:
Requires a 64-bit processor and operating system
OS: Windows 10 64 bit
Processor: Intel Quad Core i7 3.3 GHz or AMD equivalent
Memory: 16 GB RAM
Graphics: Nvidia: RTX 2070, RTX 2060 Super, GTX 1080 / AMD: RX 5700 XT Up
DirectX: Version 12
Network: Broadband Internet connection
Storage: 48 GB available space
Additional Notes: SSD is highly recommended.
We'll be hosting Joe of Extinction servers. Watch out