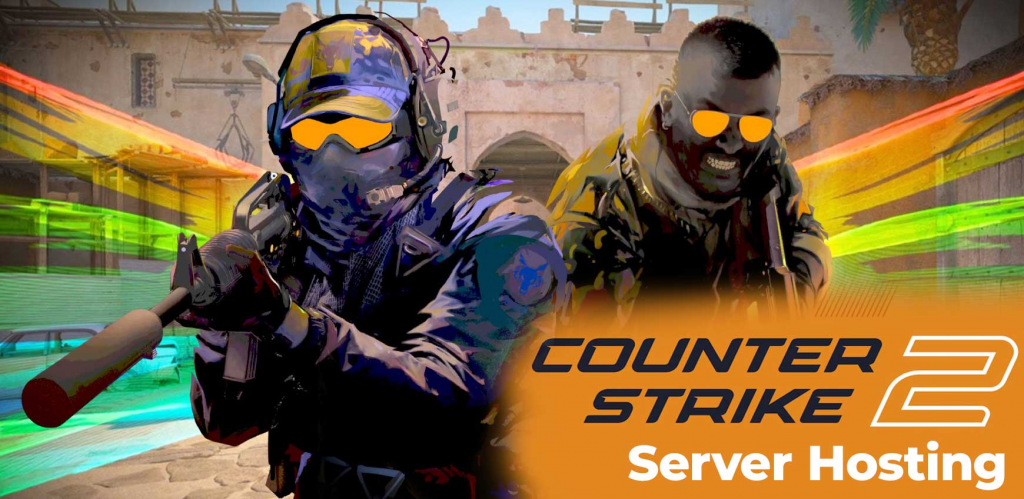 Counter-Strike, a legendary franchise in the world of competitive gaming, has recently released Counter-Strike 2, captivating the gaming community. This first-person shooter game continues the legacy of the popular title, CS: GO. To fully immerse yourself in this new game, you'll need a dedicated server to ensure a seamless gaming experience. This is where Counter-Strike server hosting providers come into play. In this post, we'll explore the world of Counter-Strike 2 and present the top server hosting providers for lag-free action.
Counter-Strike 2 is built on the Source 2 engine, offering more realistic game physics, enhanced community tools, and modernized networking. While preserving classic gameplay, it introduces several new features, including improved CS ratings, updated maps, redesigned smoke grenades, enhanced visual effects, and more. Notably, it features tick-rate independent gameplay, eliminating tick issues. Counter-Strike 2 enhances maps, lighting, and reflection dynamics, providing players with a fresh visual experience.
Upgrades introduced in Counter-Strike 2?
New CS Rating
The CS Rating in Counter-Strike 2 is a visible measurement of your in-game performance and determines your position on global and regional leaderboards. It can be obtained by playing matches in the updated Premier mode, either solo or with friends, in the Active Duty Pick-Ban competitive mode.
Responsive Grenades
Smoke grenades in Counter-Strike 2 are dynamic volumetric objects that interact with the environment, responding to lighting, gunfire, and explosions. They can influence gameplay events, allowing bullets and HE grenades to clear sightlines or expand occlusion when they interact with smoke.
Expanding Smoke
In Counter-Strike 2, smoke now naturally seeps out of opened doorways, broken windows, travels up and down stairs, and expands in long corridors. It interacts with other smoke and is also affected by lighting, offering a more realistic and dynamic gaming experience.
Tick Rate Independence
Counter-Strike 2 introduces sub-tick updates, eliminating the dependence on tick rate for movement, shooting, and throwing. Regardless of the tick rate, your actions will always be responsive and consistent.
Maps Upgrade
Maps in Counter-Strike 2 have undergone significant improvements. Some have been fully overhauled, leveraging new Source 2 tools and rendering features. Others received upgrades, including a physically based rendering system for realistic materials, lighting, and reflections. Classic touchstone maps remain largely unchanged but feature improved lighting and character readability.
Source 2 Tools
Counter-Strike 2 provides map makers and artists access to Source 2 tools and rendering features, simplifying the map creation process.
Inventory Transition
Players can carry over their CS:GO inventory to Counter-Strike 2, benefiting from Source 2 lighting and materials. Stock weapons have received high-resolution models, enhancing the overall visual quality.
High-Definition Visual Effects
Counter-Strike 2 introduces a complete overhaul of visual effects, from UI to gameplay. Source 2 lighting and particle systems bring new visuals and behaviors to water, explosions, fire, smoke, muzzle flashes, bullet tracers, and impact effects.
Gameplay Visuals
Key gameplay visuals in Counter-Strike 2 have been redesigned for improved readability. Bullet impacts are more visible at a distance, and directional blood impacts offer additional information as you navigate the game world.
Environment Effects
The game features reauthored explosions, fire, C4 lighting, and more, taking advantage of the Source 2 Engine and modern hardware to enhance visual fidelity and consistency.
UI Enhancements
The Counter-Strike 2 UI has received a complete overhaul with fresh visual effects throughout the HUD, improving both aesthetics and communication.
Accurate Audio
Audio in Counter-Strike 2 has been reworked to better represent the in-game environment, providing distinct and expressive soundscapes. The audio has also been rebalanced for a more comfortable listening experience.
Automated reminders
Complete account of the system, and expound the actual teachings of the great explorer of the truth, the master-builder of human happiness. No one rejects pleasure itself because it is pleasure.
Legal research and background check
On the other hand, we denounce with righteous indignation and dislike men who are so beguiled and demoralized by the charms of pleasure of the moment, so blinded by desire, that they cannot foresee the pain and trouble that are bound to ensue.
Advantages of a Counter-Strike 2 Hosting Server
When you choose a dedicated hosting server for Counter-Strike 2, you gain several advantages:
High Performance: These servers offer enterprise-level hardware with high-end processors, ample RAM, and NVMe storage, ensuring smooth gameplay without lag.
Low Latency: Dedicated hosting services have servers located worldwide, providing low latency for players, regardless of their location.
Little or No Downtime: Reliable and stable servers offer minimal downtime, with at least 99.9% uptime.
High Customization: You can customize your server with plugins, configurations, mods, and other game settings to tailor your gaming experience.
Complete Security: Dedicated server providers offer security features, including DDoS protection, to ensure a secure gaming environment.
Mod Support: You can easily apply mods to enhance your gaming experience.
Frequent Updates: Hosting services automatically update the game and security features, ensuring smooth gameplay and data backup.
Scalability: You can upgrade your server to accommodate a growing community of players while maintaining performance.
Counter-Strike 2 Server Hosting Providers
Now, let's introduce you to the top 10 Counter-Strike 2 server hosting providers, with XGamingServer taking the number one spot for a lag-free gaming experience:
XGamingServer XGamingServer offers an exceptional hosting experience for Counter-Strike 2. With top-notch hardware and a global presence, you can expect seamless, lag-free gameplay. Their dedicated support team is available 24/7 to assist with any CS2 challenges. Experience it with a two-day free trial and affordable monthly rates, starting at just $12.

DatHostWith over a decade of experience, DatHost ensures minimal latency with servers in over 25 global locations. Their user-friendly Control Panel and detailed API provide customization options, and their sub-tick server performance monitoring ensures smooth gameplay. Prices start at just €0.99 per slot per month, backed by a 7-day money-back guarantee.

Survival ServersSurvival Servers offers ultra-fast NVMe storage and DDoS protection, ensuring lag-free gameplay. They provide features like automatic server restart, server pass locking, and full FTP access. With servers in various global locations, ping is never an issue.
ScalaCubeScalaCube offers low-ping gaming experiences with strategically placed servers and high-performance hardware. They have simple server management and 24/7 support for any issues. Pricing starts at $10.29 per month.
ShockbyteShockbyte is known for its powerful hardware, low rental costs, and mod support. They automatically back up data and ensure game updates are hassle-free. DDoS protection keeps your gaming experience secure.
Bisect HostingBisect Hosting provides a simple control panel for easy plugin and mod installation. With NVMe SSD storage and servers in 20+ international locations, you can enjoy smooth gameplay.
GPortalGPortal offers fast server setup, enterprise-level hardware, and 50 GB backup space. DDoS protection guarantees uninterrupted gameplay. With server locations worldwide, low pings are assured.
Nodecraft Nodecraft is a reliable hosting provider with no player limits and powerful hardware. DDoS protection and automatic data backups ensure a stress-free gaming experience.
4NetPlayers4NetPlayers offers premium server hardware and DDoS protection. Their servers are located in various countries, ensuring low pings. Enjoy the game with a minimal monthly fee of $5.35 for ten slots.
GameServers.comGameServers.com is a renowned provider that offers dedicated Counter-Strike 2 hosting services. They provide high-performance servers with low latency, ensuring a smooth gaming experience. With data centers strategically located in various regions, you can expect low ping rates. GameServers.com offers user-friendly server management tools and mod support for an enhanced gaming experience. Pricing is competitive, making it an excellent choice for CS2 enthusiasts.
In conclusion, playing Counter-Strike 2 on a dedicated server significantly improves the gaming experience. The listed hosting providers offer feature-rich services at affordable rates, ensuring lag-free, secure, and customizable gaming sessions. Embrace the boundless potential of Counter-Strike 2 with these top hosting providers.